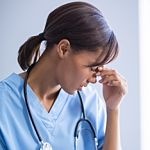 Stop Physician Burnout: Dealing Effectively with Negative Emotions
Like the layers of an onion, physician burnout is often wrapped in layers of negative emotions. In this post, let me show you a simple technique - it only takes 15 seconds - to release negative emotions as they arise and become the authentic eye of the storm in your practice day.
Peeling back the layers of the onion of bad feelings
If you find yourself overwhelmed, exhausted and out of balance with your practice -- after all your years of training and hard work, and this isn't anything like what you dreamed of back in the day ... well that recognition just feels bad.
And then you notice that the fact you feel bad about your career - well that feels bad too.
[Related: Become the Eye of the Storm in your Practice Day]
Many physicians then begin to wonder about the source of this distressing situation. The little voice in your head might kick in by whispering:
What's wrong with you? You are a successful doctor. You have nothing to complain about. You can take this. Quit whining and get back to work. Your patients come first, dang it.
And if you do begin to take better care of yourself -- start creating a little bit of life balance and building some recharge activities into your week -- a different negative emotion often comes knocking at the door of your awareness ... GUILT.
READ MORE NOW