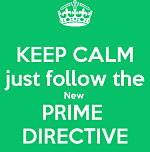 The modern physician burnout epidemic is a sign that doctors are at a tipping point ... as in tipping over the edge of a cliff. You think burnout is bad now ... project a future where we simply continue dumping additional responsibilities on their backs as usual.
The Quadruple Aim has the potential to turn the tide of stress and burnout, but only if we can bridge the gulf between UNDERSTANDING the Quadruple Aim and actually IMPLEMENTING it.
Let me show you a powerful way to bring the Quadruple Aim to life in your organization with a simple Prime Directive for Healthcare Leaders.