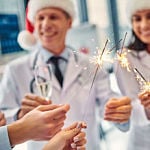 Stop Physician Burnout - you just do not party nearly enough
In this post let me show you a quick, fun, powerful method to build a more supportive culture among any group of physicians - a method most groups completely ignore.
Because of the power of an active Social Calendar (partying more), this is one of the four components of our Quadruple Aim Blueprint Strategy for Corporate Wellness.
============
Whenever I am in front of a room of 100 - 200 - 300 physicians delivering a live training, I always ask them this question ...
"How many of you can look around the room and see someone you have never met before?"
How many hands do you think go up?
READ MORE NOW