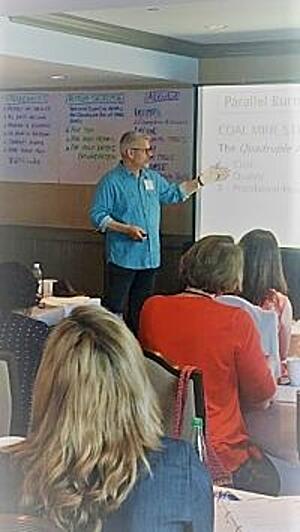 Even in a Year Like This ... Physician Wellness Leaders are More Important than Ever ... here's why ...
We are nowhere near the end of the human suffering and massive economic impact of the pandemic of 2020.
The Old Normal is gone. It is all hands on deck - as you treat COVID-19 patients directly or are working to ramp your practice back up again.
The New Normal has yet to emerge from the whirlwind.
And I keep getting the same answer to this question from everyone I meet.
"Do you think when this is all over and a Post-Covid healthcare delivery system reassembles itself ...
that the health and wellbeing of the physicians and staff
will be MORE or LESS Important going forward?"
Now is the time to get the skills and support to be an effective Wellness Champion.
I am convinced the organizations who take the best care of their people will be the winners in a Post-Covid world. And I know you want to play a role in the physician wellness movement.
Let us teach you a proven set of skills for wellness at three levels: for yourself, your teams and your entire organization. When the dust settles, you can lay down a coordinated Wellness Strategy for your people.

The Quadruple Aim Physician Leadership Retreat is Live and In Person in Seattle, September 24 - 27.
BUT YOU ARE NOT REGISTERED YET !
READ MORE NOW