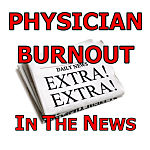 A balanced presentation on Physician Burnout in the mainstream media is rare in my experience
I always am a little uptight when I talk to a reporter about the burnout epidemic. You never know what will end up on the cutting room floor, the number of ways you can be misquoted is infinite and the doctor haters are everywhere on the internet.
So it was very refreshing when Dr. Michael Peterson invited me in to deliver an All Day Training Event to the good people at UCSF Fresno ( @UCSFFresno ) earlier this year and Connie Tran from the local TV station filmed and edited this segment for a weekly weekend spot called MedWatch Today.
Fair, balanced, empathetic towards the doctors and a straightforward presentation of the issue. How refreshing!!
==========
This is Blog Post #302
Complete Blog Library is Here
==========
Videos like this will be key to implementation of the Quadruple Aim in our fractured healthcare system. Only when a critical mass of the general public - our patients - are up in arms about physician burnout and asking legitimate questions about
the health and wellbeing of their physician
and the effects of burnout on the quality of care they receive
... only then, can we expect active burnout prevention measures in healthcare delivery organizations nationwide.
This is a good first step IMHO.
PLEASE LEAVE A COMMENT
What do you think about the representation of burnout in the lay press?
Have any local news outlets in your area done a balanced job of reporting on this issue?
READ MORE NOW