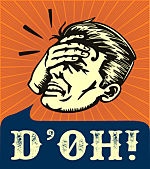 When healthcare quality measures fail us all
Now that we are in the age of Pay For Performance ( P4P ) we are only beginning to learn how difficult it is to achieve the twin towers of
Patient Satisfaction
Quality Care
Patient satisfaction is a very controversial subject - with the counterintuitive "percent of top" as our measuring stick and the universal acknowledgement that patient demands should not always be honored carte blanche. ( "I need my #90 Rx of Oxy for my fibro, Doc. The pain is awful." )
Can we at least be clear on the definition of Quality?
You would think we could find more solid ground with respect to how to measure quality. But NO! Here comes a study showing just how hard it is to define and incentivize quality care.
I can assure you that situations where you follow a care protocol to the letter, the patient has a bad outcome and you are penalized despite deploying the "best practice" only add to the stress that drives the epidemic of physician burnout.
Full details below ... on a best practice protocol and quality incentive that failed everyone involved
... especially the patient
================
The evolution of DVT as an
"every once in a while is OK" event
READ MORE NOW