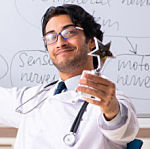 Why is it so darn difficult for people to see you are a good doctor these days?
We both know you are a good doctor. When it comes to diagnosing and treating your patient's diseases and chief complaints, you do a great job. None of us devoted our 20's to med school and residency to be a crappy doctor, right?
So why is it so hard for the patients to see that when they are filling out their patient satisfaction surveys?
Why is there such a disparity between your efforts to offer the best medical care and their Press Ganey scores??
ARRRGGHH...
============
POPULAR
The Get Home Sooner Tools Library
Is at This Link
============

It takes a while for most physicians to understand the source of this double standard. That is why this whole topic of patient satisfaction is a core cause of physician burnout.
Sooner or later all of us must admit ...
When it comes to the cursed gap between the quality of your Practice of Clinical Medicine and your Patient Satisfaction scores ...
Your patients can't tell a good doctor from a bad one.
READ MORE NOW