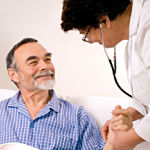 Patient Communication - What to do when a patient says thank you
I have asked hundreds of doctors to tell me a story of their most recent rewarding patient encounter. That patient interaction where, at the end of the day, they look back and said to themselves, "oh yeah, that's why I became a doctor."
These stories all have one thing in common.
No matter what the details of the case, each story always ends with the patient and/or their family and caregivers saying, "thank you."
Unfortunately, that same doctor can often miss the critical importance of these brief moments.



When a patient says thank you - no matter how rare an occasion this is in your practice - it is an opportunity for you to do two fundamental things:
1) Reconnect you with your purpose and sense of fulfillment in your practice and simultaneously inject energy to all three of your energetic bank accounts. This infusion of energy is so powerful I call it the "triple whammy". This one interaction injects a bolus of energy into your physical, emotional and spiritual accounts simultaneously. The surplus can power you for weeks at a time.
READ MORE NOW