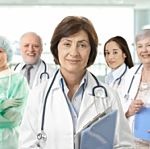 What is the #1 skill of quality physician leadership?
The answer may surprise you.
What I can tell you is that being a great clinician does not teach you this skill. In fact, our medical education sets us up to be naturally ineffective leaders.
I am not just talking about physicians in official leadership positions here. All physicians are leaders. We all have people who look up to us for guidance, answers, wisdom and vision. So let's get you the skill set you need to do a great job.
Once you learn this key skill
You will see your team perform better than ever
And you won't be working nearly as hard as you do now
In the brief video below you will learn this master skill and the "Lone Ranger" test to know exactly when you need to throw it into gear.
READ MORE NOW