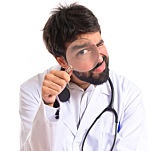 The Quadruple Aim Mission Statement Challenge
Is your organization focused on the Triple Aim or the new Quadruple Aim ... and what impact can you expect on your quality of life?
This 30 second peek at your Mission Statement will show you just how much your organization understands burnout ... and cares about you ... and what you can do about it.
============
The Quadruple Aim Blueprint White Paper Download
Four Steps to System-Wide Burnout Prevention
Download your Free Copy Now
============
Remember the old Triple Aim in Healthcare?
1) Improved population heath
2) Improved patient experience
3) Lower cost
This three pronged approach to improving healthcare delivery was first promulgated by the Institute for Healthcare Improvement (IHI) back in the 1990's.
As we look back on from our vantage point here in 2016, at the changes this initiative has brought to healthcare, there appears to be a large red flag waving frantically over the house of medicine. We know now that ...
The Triple Aim is built of noble ideals
AND
The Triple Aim has had ruinous unintended consequences
If all you focus on is quality, cost and patient satisfaction ... you burn out the people providing care.
Single minded focus on the Triple Aim without acknowledging the health and well being of the physicians and staff providing care is a three lane on-ramp to the burnout highway.
We know the doctors are suffering and things are getting worse. The latest general physician burnout survey shows 54% of US doctors are experiencing at least one symptom of burnout. This is up from 45% just three years ago. There is no reason to think nurses and other staff members are any better off.
Enter Healthcare's New QUADRUPLE AIM
READ MORE NOW