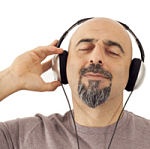 Become the Eye of the Storm With this Guided Meditation - "The Lake"
Mindfulness Based Stress Relief ( MBSR ) is the most researched and effective Physician Burnout prevention technique ... here is a shortcut to your own personal mindfulness practice. And it takes just minutes a week.
Connect with that part of you that is always calm, cool and collected no matter what is going on around you with this Guided Meditation called "The Lake".
You really can become the "Eye of the Storm" in your clinic or hospital day when you know how to use your breathing to recenter in a place that is deeper and wider than all the busy-ness that surrounds being a doctor these days.