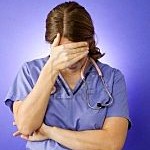 Compassion Fatigue, Physician Burnout and Your Emotional Bank Account
For anyone in the helping professions, Compassion Fatigue is a common occurrence.
Here is the origin of compassion fatigue, its relationship to physician burnout and what you can do when you recognize it in yourself.
Compassion fatigue is when you find yourself challenged to care about your patients in the way you know is proper and expected in your position. Doctors, nurses, therapists, law enforcement, social workers, military … the list goes on. All these professions rely on some degree of Empathy and Compassion to function at maximum effectiveness.
Cynicism, Sarcasm and feeling Put Upon
If you find yourself being cynical or sarcastic about your patients you have compassion fatigue. It can come in the little voice in your head, or mumbling under your breath or "Venting" to your colleagues or staff.
If you find yourself feeling like your patients / staff / institution are deliberately trying to wear you out or drive you crazy – you have compassion fatigue.
Compassion Fatigue … Your Emotional Bank Account is Empty
READ MORE NOW