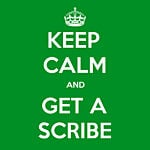 Stop Physician Burnout - How to Get a Scribe
EMR and documentation join physician burnout as another DILEMMA in the life of physicians. There is no solution/cure/fix/magic pill to make your documentation chores disappear, what is needed is a strategy to get your charts done and get you home at a reasonable hour.
In addition to templates, batch processing, Dragon and perhaps even a "super MA" -- one powerful component of your documentation strategy could be a Medical Scribe.
In this post let me show you how to get a scribe, even if you have been told you can't have one before. This method has never failed in my experience if you follow the steps below.