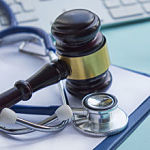 Will the government step in and legislate proactive efforts to stop physician burnout?
As we predicted several weeks ago, it is only a matter of time before the cry for legislative action would go out. And rightfully so:
Physician burnout has been characterized as a public health crisis for years
Given the negative effects of burnout on safety, quality, medical errors and physician's mental health ... it is clear that unrecognized burnout kills patients and doctors
The prevalence of burnout is staggering here in the age of EMR - over 50% in many studies
And the majority of healthcare organizations who employ doctors make no meaningful investment in physician wellbeing. Lip service is rampant, but significant FTE and dollars for burnout prevention are exceedingly rare.
Sooner or later, someone was bound to shout, "there should be a law about this." That non-specific call for action happened here back in July.
=============
Learn an Effective Corporate Physician Wellness Strategy
WellMDWorks 3-Step Process is at This Link
=============
Let's take it up a notch
Now we have specific calls for specific carrots and sticks from a bona fide legal scholar.
Sharona Hoffman, , JD, LLM, SJD; Professor of Law and Bioethics at Case Western Reserve University, has written an editorial in the latest Hastings Center Report
READ MORE NOW