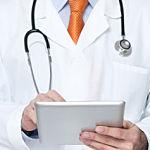 Physician burnout: How to turn the corner in your life and practice
No matter how exhausted and overworked you may feel right now -- no matter how frustrated with your practice or your out-of-balance life you may be -- there is a way to turn this corner.
Working harder is not the answer though
If you want different results in your life, you must take different actions
What got you here won't get you there
Don't fall into this trap
You can get to a place where you are running so fast - just to keep up with your current reality - that you don't have time to do anything more or anything different. I have heard people say over and over, "I am too busy to even think about doing things differently".
Here is the key to getting out of this Catch 22, the key to getting out of this mind trap.
You have to find a way to step out of the flow of your life - in order to see things from a more strategic point of view - where the things you want to change can come into sharp focus
This lesson actually came to me from the world of the entrepreneur.
You see, a person starting a small business can often end up overwhelmed by the details of being a solo entrepreneur. There is so much to do to coordinate your product/service, marketing, accounting and payroll and managing employees. It is a fairly close match for all the balls a physician has to keep up in the air -- and it can get equally unbalanced.
Entrepreneurs have to learn this mantra sooner or later
READ MORE NOW