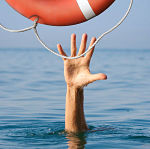 Get the Tools & Support to Help Lead the Physician Wellness Movement
Quadruple Aim Physician Leadership Retreat
Full Details at This Link
============
Feels like we have reached a tipping point in the debate about addressing our modern physician burnout epidemic.
People are running out of patience with the healthcare industry ... and appropriately so.
For the last five years physician burnout rates have hovered around 50% and the industry has responded in its usual academic fashion. Task Forces and Action Collaboratives have been organized, position papers and intellectual models published and a flurry of research into one prevention tool at a time is in the pipeline. They are struggling to "solve" what they think is a "problem" and missing the true nature of burnout in the process. The deck chairs have simply been rearranged.
... All while the whirlwind of your practice day slowly intensifies beyond your capacity to cope.
But something has changed very recently. Here's what I have noticed just in the last month or so on the internet ...
==========
This is Blog Post #307
Complete Blog Library is Here
==========
For the first time I am seeing mainstream articles calling for two new approaches to the burnout swamping our people in the front lines.
It is as if a certain slice of the general public and the physicians of America have given up on our healthcare industry taking care of its own issues any time soon.
I have a quick question for you ...
READ MORE NOW