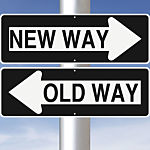 "The secret to permanently breaking any bad habit is to love something greater than the habit." ~ Bryant McGill
==========
This is Blog Post #282
Complete Blog Library is Here
==========
Habits are powerful behavior patterns with predictable results. To change your practice and your quality of life, you must change your habits.
Repeat the Same Action => You will always get the Same Result
That is a Habit and that is also Einstein's Insanity Trap.
Some Habits produce desirable results.
We call those Good Habits.
Some Habits produce undesirable results.
We typically call those Bad Habits - weaknesses, foibles, character flaws, "the human condition", addictions, Achille's heels.
These are both habits of DOING
Things You DO that are either good or bad
READ MORE NOW