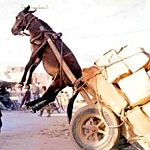 Stop Physician Burnout: Is blanket genetic testing the straw that breaks the doctor's back?



Today's sign that the end is near ...
Or the legitimate future of healthcare??
Will the doctors survive to see it through?
One of the reasons for the modern epidemic of physician burnout is the leadership habit of piling more and more and more on the backs of the doctors. We survived residency. We can take almost anything. And even the most well conditioned baby boomer workaholic physician has their limits.
The thousands of clicks and key strokes of the modern EMR, text messages, emails and other InBox work. Maybe you even deal with 2 or three different EMRs each week.
The various quality indicators and patient satisfaction requirements, HCAPS, MOC and more
Dealing with the chaos in the insurance markets and continuous mergers and acquisitions
The default setting for any new task is always, "let the doctors take care of it". No one appears to be asking the Quadruple Aim Question: "What effect will this have on the health and wellbeing of the providers."
I believe we just got a peek at what our collective Last Straw might look like just this week - and it is a sneaky one for sure. This would appear to be a good thing on the surface - good for the patients. And you are going to have to convince me this is not a legitimate Last Straw for the doctors. Ready? Drum roll please ...
This Week the Geisinger healthcare system decided they would provide free DNA sequencing for all patients !!
READ MORE NOW