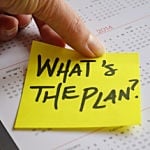 Physician burnout, the employed physician and the occasional insanity of bureaucracy
Have you ever looked at the announcement of a new policy or workflow from your employer and wondered where do these ideas that make no sense come from ?
You know the policies I am talking about ...
The one where you look at what you are being asked to do -- and actually mumble out loud, "What were they thinking? Did anyone even talk to a doctor when this policy was put together?"

We have stumbled upon what appears to be the Origin Story for this category of silly commands-from-on-high.


It's a leadership version of the old "telephone game" (Chinese whispers) that is called THE PLAN. I have yet to find a citation for its author.
As you read this, please remember it is supposed to be funny ... OK?
READ MORE NOW