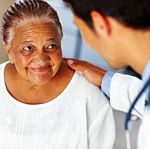 Patient and Physician Engagement - the Missing Step
We are entering healthcare's Age of Engagement- and something is missing.
In this article let me show you the missing link to patient and physician engagement. Understand this engagement blind spot, and you will immediately upgrade your effectiveness as a clinician and physician leader
============
The Quadruple Aim Blueprint White Paper Download
Four Steps to System-Wide Burnout Prevention
Download your Free Copy Now
============
Engagement definition:
The full and enthusiastic participation in a course of action.
READ MORE NOW