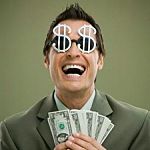 Physician Burnout may cost the US Healthcare System $4.6 Billion per year, but does this data point help lower the stress of a single front line doctor?
A new study out in Annals of Internal Medicine this week uses a cost-effectiveness approach to estimate the annual economic burden of physician burnout on the US Healthcare System. $4,600,000,000 per year was their estimate. The free floating anxiety in the headlines was palpable.
I just wish we could focus on useful research findings like Corey Lyon and his APEX Project ... and let's give real-world burnout prevention tools the same headlines as this fluff.
I will classify this as an INTERESTING AND USELESS factoid.
I work directly with physicians and healthcare organizations every day to prevent burnout and am pretty sure this number is useless in my line of work.
It is in the same category as knowing Pi to 10 digits (3.141592653) or how may toothpicks you would need to lay end-to-end to get from Milwaukee to Chicago (2,882,880).
==========
This is Blog Post #300
Complete Blog Library is Here
==========
This highly-suspect projection has zero chance of improving the quality of life of a single front-line physician for the simplest of reasons ...
READ MORE NOW