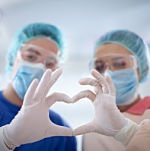 2016 Year in Review at TheHappyMD.com
[Press Release]
Burnout is rampant among American doctors, with recent studies showing as many as 54% of practicing physicians suffering from at least one symptom of this syndrome(1). Burned out doctors make more mistakes, provide lower quality care, get sued more often and have lower levels of patient satisfaction. (2)
The problem has worsened to the point that the CEO of the Mayo Clinic – John Noseworthy MD – recently advised that patients fire their doctor if they sense the physician is burned out, because it is "Not worth the risk of being treated by an impaired physician". (3)
What should doctors and the organizations that employ them do to address this epidemic?
TheHappyMD.com, Seattle, Washington 1/5/2017
Dike Drummond MD, CEO and Founder of TheHappyMD.com announced today that he personally delivered the Burnout Proof Live Workshop to over 10,000 physicians, in 300 separate trainings, for 48 corporate clients in the calendar year of 2016.
This flagship workshop teaches the signs, symptoms, causes and effects of physician burnout. Attendees also learn how to recognize burnout in themselves and others and how to both reach out for and accept support.
"All physicians graduate with a gaping hole in their medical education around stress management and burnout prevention. Our workshop fills that hole in a public forum and starts to shift the culture of the organization.
READ MORE NOW