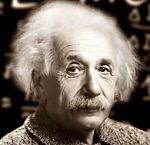 How did Einstein get to be a physician burnout expert?
If you want to lower your stress levels, build a more balanced life and an more Ideal Practice, remember these two quotes from Albert Einstein and there is literally nothing you can't change.
============

Einstein Quote #1:
"The definition of insanity is -- doing the same thing over and over and expecting a different result."

Here is another way to say the same thing: If you always do what you've always done -- you will always get what you've always got.
The only way to change anything in your life is to take new actions.
Yes it is that simple.
Stop venting.
Decide what you really want.
Take a baby step in that direction.
Repeat.
Thank you Albert!
READ MORE NOW