That's the thing about a Pandemic, you get to take a closer look at all aspects of your life in a new light.
The stress of this once-in-a-lifetime (we hope) virus is relentless - at work, at home, in your community and across the globe. Everything has been put under the magnifying glass - the public health system, your political beliefs, your family relationships and most of all - your practice.
Specifically, your Level of Satisfaction with your practice.
Until COVID-19, you may have been cruising along on autopilot in what you thought were "normal circumstances". Sure, the flow of your practice day had some hiccups, pinch points, friction ... but you were able to muscle your way through - and your take home pay was good enough.
How about now, 3 1/2 months after the coronavirus lowered the boom on the healthcare industry. How are you feeling about your practice right now?
I have three quick questions for you.
And I know these are questions you may have never been asked before.
============



1) On a scale from 1 - 10, how would you rate your Level of Satisfaction with your current practice over the last couple of weeks? Go ahead and give it a number.



Here's a visual cue if you are having trouble picking your number.

2) How do you FEEL about that number? Are you pleased, disappointed, meh? Would you like it to be higher than this?

3) If that number is lower than you expected -- do you think COVID-19 caused that discrepancy or simply revealed it?

If your number is lower than you expected, did the pandemic knock it down there - like a hammer on a nail?

Or did the stress of the pandemic just reveal something that's been there all along, something you were more able to tolerate back in the "old normal" than you are now?

============
If you are noticing a longing for a more satisfying practice, you are not alone.
In conversations with several dozen members of our online community it has become clear the pandemic is causing everyone to take a fresh look at their practice:
To question the things you used to think were normal
To notice the areas where you do not want to return to that old normal
To wonder what the future of your practice holds
To feel you are not in control of the answer to that question.
You may be tempted to cross your fingers, hunker down and hope for the best when this is all over. (That looks like it will be sometime in mid-2021 if we are lucky!)
Or you can take advantage of this point in time when everything seems to be up in the air to define and create a More Ideal Practice for you and your family.
What is your Ideal Practice Description?
What new actions will it take to get a 1 - 2 point increase in your satisfaction levels?
How do you get started?
These are questions we have helped practicing doctors answer since 2010.
Here are three ways to get started.
============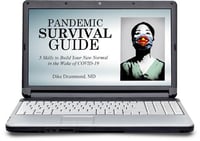 1) The Pandemic Survival Guide online video training for physicians
Learn New Skills to Survive All the Layers of the COVID-19 Crisis, Hold Your Center and Find Solid Ground on the Far Side
CLICK HERE to learn more and get started
============


2) The Practice Reset Online Workshop

The 4 Lessons of the PRACTICE RESET ONLINE WORKSHOP show you proven skills to:
- Take back control of Your Practice and Your Career
- Build More Satisfaction and Purpose into Your Work
- And More Balance Into Your Life
CLICK HERE to book your seat in the next workshop

============


3) A Discovery Session with one of our certified physician burnout coaches.
No cost, no obligation, completely confidential.
You get a strategic action plan for a way forward.
CLICK HERE to see coach bios and book your call



============
PLEASE LEAVE A COMMENT:
What is your level of satisfaction with your practice?
Is that number lower than you thought it would be?
If yes, did COVID-19 cause that discrepancy or just reveal it?