I have talked to hundreds of physicians in the last six weeks and two things are consistent.
1) Everyone knows the Old Normal is gone. There is no going back.
Once we get through the infectious disease crisis, round two of COVID-19 is the economic impact on your organization. Can you be certain at all what your practice will look like this time next year?
2) AND YET ... Most doctors don't want the Old Normal back again in the first place.
No one is longing for a return of the good old days of EMR overwhelm, the fee-for-service hamster wheel, Pajama Time documentation at home and burnout rates of 50% and more. Who wants that back again? Isn't there a better way?
Isn't there a way to practice your craft as a helper, healer, caregiver and Lightworker without so much waste and brain damage??
The answer is YES - we know it to be true. And yet, the New Normal is completely unclear at this time. There is a chasm to cross.
Once you get to the far side of that gap ... once the New Normal becomes clear ... it will need to be a New You stepping up to that seat at the table.
This is not about RE-SILIENCE - the ability to snap back into your Old Configuration.

This is about NEW-SILIENCE - the ability to snap into a NEW CONFIGURATION = a New You for the New Normal, no matter how long that may take to arrive.
If you would like to cross this chasm with elegance and grace we can provide you with two success factors you can't find anywhere else:
A Map of the Crossing
An Experienced Guide
============


1) Your Map to the New Normal is our Pandemic Survival Guide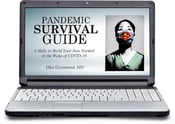 The Online Video Lessons of the Pandemic Survival Guide share five proven skills to help you, your family and your work team(s) navigate all 13 impact layers of this COVID-19 crisis.

"The Survival Guide stops you from wasting time. Super simple, high yield, shows you where to focus and what questions to ask."

"I came away with concrete tools that I could apply immediately to my personal situation, as well as a plan to thrive as the world continues to change unpredictably."

"The videos are short - made it possible for me to complete them amidst my busy schedule. I highly recommend this course."
============
2) Your Veteran Guide = one of our Certified Physician Burnout Coaches
Each is a physician with loads of practice experience (over 176 years between the seven of us), a certified executive coach and specially trained in our tools to prevent burnout and help you build a more Ideal Practice. Every coaching call shares tools we have tested in the real world for the last ten years with over 40,000 physicians.
"I am surprised at how quickly I felt better after so many years of feeling so sad."

"... exactly what I needed in order to re-gain direction and truly believe in myself again"

"This knowledge and self-belief is allowing me to move forward and ask for the things I need to be effective (happier)."



"

I have never been happier with work or more balanced with life in general. I really don't think I would have gotten here without the framework that your coaching provided. It has made a huge difference."


============
Put Them Both Together and You Get Our
[New]2 Pandemic Crossing Package
(and Save $239)
With the purchase of any Physician Coaching Program between now and June 15, we will include the following proven support tools at no extra charge:
Lifetime access to the Pandemic Survival Guide ($97 Value)

Lifetime Access to the research-validated One Minute Mindfulness Program ($97 Value)

A signed copy of my book Stop Physician Burnout and Transitions by William Bridges ($45 Value)


IMAGINE THIS SUPPORT SYSTEM GOING FORWARD

1) A one hour phone call with an experienced physician coach once or twice a month to keep you safe, sane, healthy and laser focused on your Ideal Job Description through the months ahead ...

2) PLUS the skills training package to become the eye of the storm and navigate through to the far side of the pandemic ... available online 24/7.



YOU CAN LEARN MORE AND GET STARTED WITH A SINGLE, FREE PHONE CALL

All Coaching Programs Start with a Free Discovery Session.
This is a one hour phone call with the coach of your choice
No Cost, No Obligation, Completely Confidential

You will receive a written action plan and can make a decision on
whether or not to enroll in a coaching program at the end of the call.


The [NEW]2 Pandemic Crossing Package
When You Enroll
in Any of Our Coaching Programs
Between Now and June 15,
We Will Include Our Best
Online Trainings and Books
at No Extra Charge
- a $239 Value!


USE THIS LINK TO
MEET OUR PHYSICIAN COACHES
AND BOOK YOUR DISCOVERY CALL NOW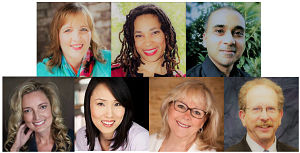 ===========


That's all for now.
If you have any questions, suggestions or would like personal support or help with your organization...
- click here to contact me directly
- or hit "REPLY" to send me a personal email
Keep breathing and have a great rest of your day,

Dike
Dike Drummond MD
www.TheHappyMD.com